Hillside Beach Club and the surrounding countryside is an extraordinary natural haven; the perfect place to relax and revitalise. It is a truly wonderful environment, not just for us humans but for birds too – and it goes without saying that this makes it an ideal place for birdwatchers… So don't forget to pack your binoculars…
What makes Hillside Beach Club so special for birds?
Turkey is situated at the meeting point of three continents, forming a bridge between the nesting sites of birds in the north and their feeding grounds in the south. So, it is a very important country for our feathered friends and remarkably, there are more than 456 different species of birds to be seen in this geographically and climatically diverse part of the world. Some species spend their lives here, some breed here, and yet more stopover on their long migrations.
Of course, the numbers and species of birds vary with the habitat and season. Just like many other parts of Turkey, the countryside around Fethiye is rich in bird life for much of the year – with some species living there all the time – while for others it is an important service station to stop at as they make their long journeys along the migration highways in spring and autumn.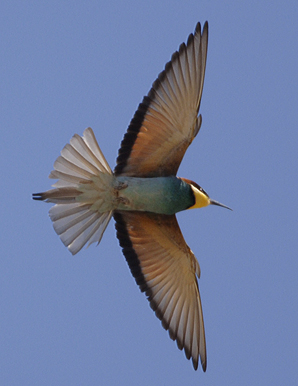 Some of the birds you are most likely to see or hear at Hillside, depending on the time of year, include:
Bee-eater (April/May and September) (Amazing "liquid" call)
Blackbird* (wonderful song)
Common buzzard*(flying)
Eurasian skylark*
Great cormorant* (on the sea)
Great tit*
House sparrow*
Kestrel* (flying)
Little Owl*
Robin*
Scops owl*(unusual call at night)
Yellow wagtail*
Wheatear**
Yellow-legged gull*
* Fethiye resident
** Summer only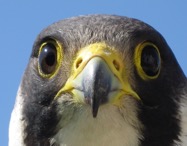 Fethiye is growing fast, but even so it still retains some environmentally rich and diverse natural areas for birds. These include the coastal plains, agricultural areas, wetlands, forests, mountains, highland pastures and high plateaux that become lakes in the winter, as well as several manmade reservoirs.
Over the years, bird experts have estimated that the Fethiye region is host to more than 222 species, ranging from birds of prey such as eagles, kites, kestrels, hawks and ospreys, to regular visitors such as bee-eaters, European blue rollers, skylarks, swallows and house martins. In addition, there are statuesque marsh birds, such as purple heron, crane and stork through to the prolific song birds such as robins, blackbirds, larks, nightingales, and thrush.
You don't have to be an ornithologist for your heart to leap when you catch a glimpse of a majestic eagle soaring above the forests and mountains or tune in to the liquid warbling of bee-eaters, as they circle in the warm clear air of early or late summer.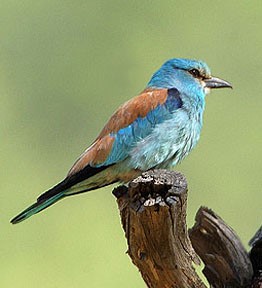 I'd now like to introduce you to a few different habitats where, at different times of year, you might be lucky enough to spot some of Fethiye's birds; both seasonal visitors and year round residents.
Girdev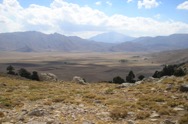 This high plateau in the highland pastures (yayla) of the Ak Dağı – the mountain range between Fethiye and Antalya – lies at 1600 metres (5,250 feet.)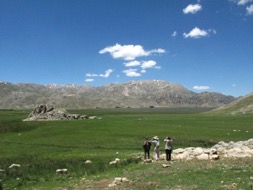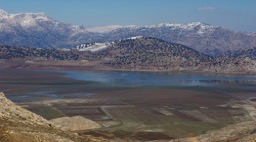 Long before the summer hikers attempt a trek or visitors test the limits of their cars' endurance along the dirt tracks, the nomads return – as they do every year – with their flocks of sheep and goats. At this time Girdev also becomes home for storks, hoopoes, crane and heron. They fly up to this extraordinary and remote area, studded by ancient twisted juniper, firs and jagged rocks, to plan their nurseries and to make new, or repair their old nests.
Come the warmer, longer days of May and June there are up to 50 pairs of nesting storks in Girdev. You should also be able to see Ruddy Shell ducks, Cranes, Purple Herons, Hoopoe and high above kite, buzzards, eagles and hawks. It snows in Girdev during the winter months and when it melts this, together with the rain forms a lake which slowly empties through a series of cavernous tunnels in the limestone, like a plughole, leaving a marshy area, laced with streams, at the lowest slope of the plateau.
This is an ideal habitat for frogs, dragon and damsel flies, assorted insects and plant life, providing a rich diet for the parent birds who at this time can be seen feeding their young. There is also a wonderful crop of wild water cress, which can add a tasty supplement to any picnic! The storks nest directly above this area in the juniper trees.
Akgöl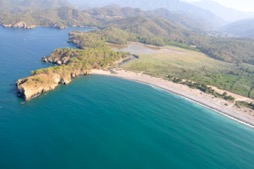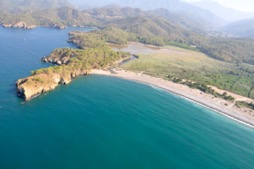 An important and vulnerable ecosystem in the Fethiye area, this lake and surrounding wetland is sometimes a little brackish, especially when the water level drops during the summer months but the sweet water attracts many marsh birds and in the spring the same birds that later fly to Girdev congregate and feast on the lake's rich algae, plant life, frogs and insects.
It wasn't so long ago that a birdwatching friend visited the lake in May and in one day recorded 26 different species of birds! These include waders, coots, moorhens, cormorant, crane, stork, hoopoe, ibis, red-backed shrike, little egret – and if you are very lucky the Smyrna kingfisher.
Kuş Cenneti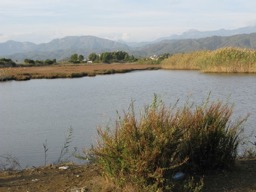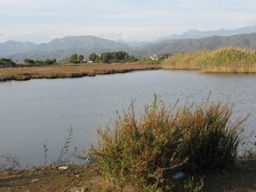 Bird Paradise in English, Küş Cenneti lies between Fethiye and Çalış and is one of the few remaining areas of salt marsh hereabouts. Similar to Akgöl, but less sheltered and certainly more accessible, there are many species of birds here all year round, broadly similar to those found in Akgöl. Species include white egret, heron, warbler and the very occasional Smyrna kingfisher.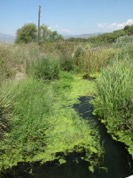 Some of the birds you may see in and around Fethiye
Hawfinch*

Hoopoe

Horned Lark

Jay*

Kestrel

Rock Thrush

Scops Owl*

Smyrna Kingfisher

White Stork*

Woodchat shrike*

Bee eater

Crane

Cirmson-winged finch*

Curlew*

European Blue roller*
* Photos courtesy of Ali İhsan Emre